A long time ago, in a romantic, albeit sometimes noir, past of the gambling world, a casino would be the place to try your luck at games of chance. If you wanted to bet on sport, you would call your bookie, or meet someone one-on-one. If what you wanted to bet on was horse racing, you had to physically go to the track, and keep your eyes and ears peeled throughout the entire race.
Nowadays, any Tom, Dick and Harry can go to the Caesars Casino site, or pop into any old betting house, ask around, and combine their love of games with their passion for sports. Indeed, gambling has come a long way to accommodate its valued patrons, customers and newbies. Now that we've established that you can bet on sports, can you bet on football?
Laws
While it is possible in a physical sense, one must not forget the rules and regulations of various countries, states and provinces. Be wise, and check whether your country allows sports betting to begin with. An alternative route would be to take the game online, as most of the online casinos have merged their sports betting with online games, conveniently circumventing the troublesome laws.
This isn't to say that betting on football online is illegal, it normally isn't, but there is a reason every site has terms and conditions, as well as fine print. If a casino can't operate in your country, you might have to travel abroad before using their services. Be sure to check the rules regarding deposits and payouts.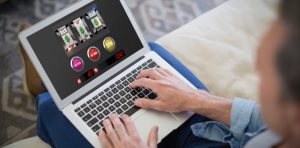 The US
Interestingly enough, we now bear witness to an era when this question is becoming more relevant. Betting on sports have always been part of the American culture, though, up until recently, it wasn't exactly legal anywhere, save Nevada.
Interestingly enough, the Garden State won the Supreme Court's favor earlier this year. With a vote of seven to two in favor of overturning the gambling ban, this ruling could pave the way for serious betting in the future.
New Jersey allowed other states to set up their own gambling laws and regulations, away from the control of the federal government. Five more states decided to hop aboard, so if you are the resident of these states, congratulations – your next NFL season is going to be much more interesting than ours. The states in question are Connecticut, Mississippi, New York, Pennsylvania and West Virginia.
Online Betting
This begs repeating – check the laws of your state, country, or municipality before placing a bet online. Depending on your location, should this activity prove to be illegal, you could face a heavy fine, or jail time.
The jury is still out on esports, and where they fit in. The understanding and ideas regarding internet regulation are still difficult to design, or enforce. However, we believe it is safe to say that if you can't bet on football now, it is just a matter of time.