Bolton's newcomer Ivan Klasnic was interviewed for today's match programme and Megson or Gartside made sure he used the word 'positive' in relation to the club's mentality.
"I was impressed with everything that I saw. The stadium is excellent and everyone at the club has a positive mentality."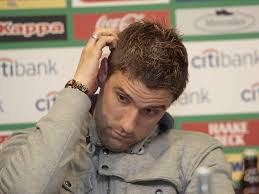 The word 'positive' always seems to pop up during player interviews, I'm fairly certain that Kevin Davies, Jussi Jaaskelainen, even Johan Elmander used it preseason, along with the Bolton's new signings who praised the positive attitudes of their new colleagues.
Should we believe that there is a constant positive attitude amongst the Bolton squad or is it just spin? Perhaps there is a clause in the players' contracts that stipulates that players must be publicly positive on all occasions and must express this verbally to the media at every opportunity.
Not that there's anything wrong with being positive, as long as it does not lead to overly overt optimism — know thy limits!
Ivan went on to say;
"The sun was shining on my first day and we went on to win our game at Portsmouth, so I had a very good week."
Hang on to that fond memory Ivan, it's going to be a bleak winter and I don't just mean meteorologically. However, it turns out that Klasnic refused to sign for a Premier League club because of England's chilly climate.
Former Wigan manager Steve Bruce tried to sign Ivan Klasnic in 2008′s summer transfer window but, according to the Mail Online, the English climate was medically too cold for the Croatian international.
"Bruce's medical team looked into hitman Klasnic's background and found out that he needs to play in a warm climate because of a kidney problem."
There are two explanations for Ivan declining a move to Wigan in 2008. Either Ivan identified that WAFC would be a shit team to play for or cold weather does cause problems but 14 months global warming has made the move to dreary England possible.
Whether the weather affects Klansic remains to be seen but something tells me it won't.
More Transfer Rumours
While Camel Meriem trains with The Wanderers and Gary Megson announces that he wants to concentrate on Bolton's defence two more players enter the rumour mill.
First of all Rochdale's versatile winger, Will Buckley, who is happy to play as a striker too, has been linked with Bolton Wanderers. It is thought that Gary Megson has been tracking the 21 year–old since becoming BWFC's manager a couple of years ago. It is thought that Bolton will sign the Oldham born player in January but loan him back to RAFC until the end of the season.
Bolton Wanderers have also been linked with Middlebrough's Gary O'Neil, along with a slew of other Premier League clubs, including; Blackburn, Fulham and Wigan.
Speculation about O'Neil has the classic signs of unsubstantiated rumour. Middlesbrough were relegated recently, O'Neil's contract expires within a year and he is currently playing well for his club.
It is fairly safe to say that Bolton will not be signing another midfielder, let alone pay in the region of £4m for O'Neil's services.
Megson Hopes to Strengthen Defence
As briefly mentioned, Gary Megson wants to concentrate on defence. Although this does not necessarily mean that Bolton Wanderers will be signing new defenders in January, but doubtlessly rumours about new defenders at The Reebok will start soon.
Here's what Megson told the official BWFC website:
"We've been playing okay at home. Liverpool and Tottenham were really good performances. I can understand people's reaction after the first 45 minutes against Stoke, but I've heard that reaction at quite a few grounds — they are difficult to play against and have just been to Everton and drawn there.
"What we have got to do is just keep plugging away and expect to defend set-pieces better, as we didn't do against Sunderland and Tottenham at the Reebok. It makes me smile how people talk about the number of goals we score from set-pieces this season, but we aren't defending them well enough.
"That has got to improve and if we can do that then the results will come at home."