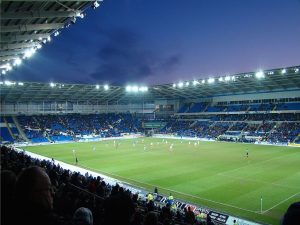 Played at the Cardiff City Museum, the game between Bolton and Cardiff ended up in a painful loss for the Wanderers who didn't manage to score a single goal. Cardiff won 2-0 thanks to Armand Traore and Sean Morrison, both goals being scored in the first half.
Lineups
Bolton started with Alnwick as a keeper, topped by Beevers, Burke and Dervite in the defense line. Ameobi and le Fondre were in attack positions helped by midfielders Robinson, Vela, Henry, Derik and Morals, so we have a 3-5-2 formation.
Cardiff opted for a 4-3-3 lineup with Etheridge guarding the goal, helped by Peltier, Morrison, Ecuele Manga and Traore in defense. Paterson, Grujic and Ralls are playing in the midfield, while Hoilett, Zohore and Ward were in attack position. Strange enough, both goals of the match were scored by defense players.
Stats
We can't say the ones from Bolton didn't try though, since the stats show equal possession between the two teams. Still, they just couldn't take good shots. Out of only 4 attempts, none was on target, compared with Cardiff who shot 24 times, 11 of which were on target.
As for fouls, Bolton was a bit more aggressive: 16 to 11, pus a yellow card for Mark Beevers in 43'. No red cards were shown in this game. Corner shots were similar: 4 for Cardiff and 3 for Bolton.
The first goal was scored by Armand Traore in 34' followed by  Sean Morrison 10 minutes later. Other than that, no notable moves were made during the game.
Ranking
At the moment, the Bolton Wanderers have 30 points with 31 games played out of which 7 wins, 9 draws and 15 losses. The good news is they are still above the line, being followed by Birmingham City and Hull City. The teams that at the moment don't qualify to remain in the second tier of the English Football League system are Barnsley, Sunderland and Burton Albion with 28, 26 and 25 points respectively, each having 31 games played.
As for Cardiff City, they are on the 4th place with 58 points and 31 games played. Derby County is right above with 58 points but they played one extra match so the 3rd place is up for grabs if Cardiff does well in their next encounter. Cardiff has real chances of advancing to the Premier League next season. The Wolverhampton Wanderers lead by far with 71 points followed by Aston Villa with 59 points.